Car Servicing in Bedford
NMT Garage Services - Car Servicing You Can Trust
Do you live in Bedford or the surrounding areas and need car servicing that you know you can trust? NMT Garage Services are an independently run garage with an established reputation spanning over 30 years. Our car and vehicle servicing is high quality and above all, trustworthy, no matter your vehicle's condition or age.
Skilled Car Servicing in Bedford
Our highly skilled technicians are experienced in a range of car servicing, from MOTs to full-service, car repairs, and everything in between. We can service your car whatever make or model, from older technology to brand new vehicles.
We use high-quality parts in all of our services, repairs and replacements. However, if you require us to use genuine, same-make manufacturer parts, please do let us know and we will be able to help; these are often required for vehicles that are under warranty and is often a stipulation on cars that are on a lease.
Regular car servicing will keep your car running smoothly and help identify any problems early on, so they're less likely to be expensive for you and you'll be less at risk of breakdowns. If you are selling, regular servicing will deem your car more trustworthy, especially if it is older and second-hand.
Just some of the car servicing options we provide:
MOTs (technical safety inspections)
Essential checks
Full servicing
Diagnostics / control panel
Brakes/ braking system
Oil changes/ oil filters
Fluid replacements
Suspension/ steering checks
Tyres, alignments and punctures
Air conditioning
Thermostat
Water/radiator leaks
Spark plugs
Exhausts and Catalysts
When Should You Get Your Car Serviced and How Much Will It Cost?
It is recommended to have your car serviced every 12,000 miles, or annually, whichever comes first. Every car is different, so refer to your manufacturer's guidelines to check how often servicing is recommended for your car. When it comes to cost, this will also vary by car and the type of service required. If you give us a call on 01234 262 444, our team will be happy to provide you with a quote for your vehicle's servicing.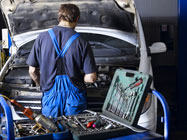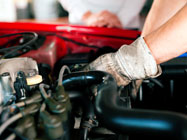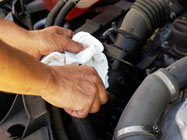 Book Your Car Servicing with NMT Garage Services Bedford
Our garage is conveniently located less than 2 miles from the centre of Bedford, on Windsor Road. This makes us a great choice for anyone living or working within or around the area; we're open from 7.30 am - 5.30 pm Monday to Friday. To book your car in for a service, or to receive a quote from a Bedford garage you can trust, complete our online contact form or give us a call on 01234 262 444.